How do online classes work?
Speakhabla uses a state-of-the-art online classroom. Our virtual classroom works in any browser, without any downloads, and is designed specifically for the needs of our clients.
Lesson Plans: are created from a structured template and are created uniquely and specifically for each student.
Lesson Reviews: are created from a structured template and sent weekly to each student (including homework) The LR has 3 main objectives
To review everything that you did that past week – with links, videos, articles, whatever they find relevant to YOU specifically.
Your homework
To review everything that you will do next week – with links, videos, articles, or whatever they deem suitable to help guide your learning. You will have all the tools you need to continue to develop your English skills, even when you are not in class.
New Vocabulary List – Updated and revised weekly for each student
Progress Reports: are created from a structured template and are completed by your teacher every 3 months. This also includes a Class and Self Evaluation to be completed by each student.
SMART GOALS: are created every 3 months to ensure you know where you are going and what you need to achieve.
Your teachers will be connected to you via WhatsApp.
One of our experienced English language teachers will go through a thorough 1st class with you, answer all your questions, and address your language needs. Lessons with a real teacher offer you a high degree of individuality as well as good preparation for everyday practice. This ensures the fastest and most sustainable learning progress possible.
You decide when and how often you want to learn. From the comfort of your own home or anywhere else.
What does Speakhabla offer compared to other providers?
Other providers provide a teacher to teach the class, and then you will not hear or see them again until your next class time.
Speakhabla teachers connect with their students throughout the week via WhatsApp. They communicate, every day, sending new words and phrases, offering help in emails or answering whatever questions you may have. Think of them as your personal English Coach! 
We do not use boring textbooks. Other providers use textbooks. How is a textbook going to help a Business professional prepare for a presentation or an interview they have later that week? Other providers subscribe to a "one methodology applies to all" mindset. The textbooks guide the learning, not the teacher and not the student's actual needs, making the content irrelevant to our students' lives and career. They provide a cooking cutter solution, one size fits all. The opposite of Speakhabla. One methodology does not fit all.
Other providers don't show their prices. Speakhabla shows our prices loud and proud. We do not force you to make an appointment or schedule a Demo Session, We are not secretive regarding our prices. Other providers charge different prices to different clients and keep their prices top secret.
Other providers charge you $ to take their online English Level Tests. The BELA is FREE.
Other providers charge you $ for your English Level Certificate. The BELA certificate is FREE to all who complete the test.
Other providers claim they can teach you English is 3 or 4 months. Obviously, this is not true. We would rather under promise and then exceed your expectations than overpromise and not meet your expectations.
Speakhabla sends Lesson Reviews each week to every student. Many other providers skip this crucial step.
Speakhabla records our classes, so if you are in a group class, you can catch up when you have time.
What Languages can I learn at Speakhabla ?
English & Spanish for business professionals.
What is a Lesson Review?
Each week, your teacher will send you a LESSON REVIEW. The LR has 3 main objectives:
To review everything that you did that past week – with links, videos, articles, whatever they find relevant to YOU specifically.
Your homework
To review everything that you will do next week – with links, videos, articles, whatever they deem suitable to help guide your learning. You will have all the tools you need to continue to develop your English skills, even when you are not in class.
At what level is the English course held? Do I need previous knowledge?
No previous knowledge is necessary! We offer online English courses at different levels: (A1-A2), intermediate (B1-B2) and advanced (C1-C2).
Here you can find an overview of the different levels of our online language courses. To determine your level, you will take The BELA  language test.
How long does it take to get to the next level? How many English classes? How many months?
How long your English language course should take to reach the next language level depends on your personal English level, your goals, your level of dedication and the intensity of and frequency of the English course. However, here you can see the CEFR levels and the # of hours it takes to get to each level. This is an orientation for you, with how many potential lessons or learning hours you should expect on average to get to the next level.
Is there a registration deadline?
No, you can enroll whenever you want. The first class usually starts every Monday to keep the learning groups as constant as possible. For absolute beginners, we recommend that you always join at the beginning of the month. This way you will be in a class with other beginners and can keep up from the start.
Private more advanced students can begin anytime that is convenient for them, joining at the beginning of the month is always recommended.
Are the teachers Native English speakers? In which language are the English Classes given?
The lessons are given in English. We believe that constantly using the language results in the best and fastest progress. This may seem a bit overwhelming to beginners, but you shouldn't worry about not being able to follow along. Most of our teachers speak Spanish as well. Our experienced teachers adapt to each student individually and use different teaching methods to make sure that everything is understood properly. Of course, they will resort to Spanish if the student is having some difficulties with a specific issue.
Is there a placement test?
YES! The BELA – stands for Business English Level Assessment. Students who want to enroll in either private and group classes will be asked to take the BELA test so that we can determine their actual language level. This is done in order to make the class groups as homogeneous as possible. We always make sure that students with similar needs are together in the same group. If you find the course too easy or too difficult, talk to us and we will arrange a change.
Do I get a certificate at the end of the course?
All students who have attended 80% of classes will receive a certificate of successful attendance. If you are unable to attend class, it is advisable to notify your teacher and discuss further action.
All students will receive a verifiable certificate with their English level for employability after they complete the BELA test. This certificate can be uploaded to LinkedIn or CV.
BONUS – for those of you who are reading this : If you complete the BELA, and post your BELA level certificate on LinkedIn and mention Speakhabla Language Solutions, we will give you a 10% "thanks for the mention" discount.
If you have not completed the BELA and would like to test your current language level now, you can take the free BELA placement test now
What are the Teaching and Learning Materials?
Speakhabla does not use a textbook. We use the suggested syllabus of Cambridge that adheres to the common European framework for language. The teacher will provide work materials before, during, and after class. Exactly which work materials or books will be used depends on the level and focus of the study group.
What is the average class size?
Most of the virtual classes at Speakhabla are one-one classes. The group classes we have are small and have no more than 6 people.
What are the teacher's qualifications?
There are several levels of certification that a language teacher can have, so it's critical to know what your instructor's background is before you commit to a course. As a minimum, Speakhabla requires their language teachers to have a university degree and a TEFL or CELTA certificate.
What is the format of the classes?
WARM-UP: To make the brain work. The objective is to think and speak in English, learn new vocabulary and improve pronunciation (games, TedTalks, videos, articles, and debates). REVIEW and HOMEWORK: A review of the previous class and homework.
SOMETHING NEW: The grammar part of the class including: videos, games, conversations and more.
SOMETHING FUN: Something fun to end the class. Phrasal verbs, idioms, slang, among others.
How do I begin? How do I enroll?
Complete the BELA – Business English Level Assessment. The BELA will help us understand your current English level.
Complete the Needs Assessment – Completing the Needs Assessment allows us to have a deeper knowledge of your needs so we can help you create your goals.
Complete the 1-hour Smart Goals Session. During this session, all of your final questions will be answered. You will choose your program, and meet your teacher.  Most importantly, we help you set goals and complete your learning plan.
Choose the day and time for your classes and begin!
Is there a separate English course for Corporations?
Yes! Speakhabla provides Group & Private English Classes for Enterprise– Virtual or Face to Face.
SPEAKHABLA'S English for Business classes allows your team to improve their English communication skills while improving their business communication skills at the same time.
English for Business is perfect for the business professional who is at an upper intermediate/advanced level of English (B1-C1) Certification upon completion.
What services does Speakhabla provide to corporations?
Private & Group Business English Classes
Communication Workshops
English Level Testing
Interpretation & Translation Services
Do you have translation services?
YES! Qualified & Certified Translators & Interpreters with extensive business experience.
SPEAKHABLA offers a range of English translation & interpretation services which include but are not limited to document translation, desktop publishing, proofreading, web localization, transcription, certification, and interpretation via telephone, video call or face to face.
Do you have business workshops?
SPEAKHABLA offers a unique learning approach to leadership development and personal growth. The workshops allow for the improvement of English communication skills and business skills at the same time. It's time to offer your employees benefits that they will appreciate and learning opportunities that will help them for the entirety of their lives.
Workshops are typically 90 minutes and executed virtually.
What is The English Master's Club? What makes it different than traditional classes?
Are you CRAZY busy, and you need more flexibility and less structure?
Do you already speak English at an intermediate or advanced level?
Do you want to practice speaking under the guidance of a native speaker?
Then the English Master's Club is exactly what you're looking for!
What is The English Alliance? Do I need to be at a certain level of English to begin?
For students who test at an A1 to B1 level.
3 or 6 hours of Classes per month
Lesson Review once per week
FREE Level Assessment and Certification
Needs Assessment
WhatsApp Group Chat
Miss a class? No problem, ability to watch class after the fact in online Video Library.
What are the different levels?
According to the Common European Framework of Reference (CEFR) the different levels of language proficiency are the following:
Beginner levels A1 and A2
Intermediate levels B1 and B2
Advanced levels C1 and C2
Are the courses in person or online?
We are 100% online.
All the lessons take place with online video calls between the student/s and the teacher/s.
Also will I receive a certificate which is in accordance with the Common European Framework?
You will receive a certificate of attendance from Language and Motivation, stating that you have participated in our three-month course (or as many months as you have attended). This is provided upon request.
However, if you wish to use a certificate for official affairs, then it's recommended that you sit for the official exams to prove that you possess that level. We, as an online language school, will be happy to prepare you for the exams. Speakhabla has a collaboration with Cambridge and Michigan Testing and our students receive a discount.
Can the company I work for pay for the lessons?
We highly recommend asking your workplace to reimburse your language learning expenses. This is a common practice. The benefits of you learning the language are huge, and employers know that. We can speak directly with your company or indirectly, through you.
I want to be in a group lesson, when is the earliest starting date?
In case you have a partner to start a group with, then new lessons can begin immediately.
In case you need to be matched, then we can check the waiting list for a person with the same language level as you. If your schedules match, then you can begin immediately. But if there is no one on the waiting list, then you may wait until someone comes along.
What happens if I can't attend the lesson?
A scheduled lesson with a teacher can be canceled or changed to another date, at least 24 hours before the actual time of the lesson. You will have TWO weeks to reschedule your canceled class. Otherwise, the lesson time is going to be deducted from the purchased lesson package, without any further announcement or refund.
Do I need a computer or can I have my lessons through a tablet/mobile?
You will need a computer to access your educational files and study, but also during the lesson it's important to be able to have multiple pages open in your web browser.
What is the recommended Internet Speed for the online classes?
Broadband connections have different upstream and downstream speeds. If you are connected to the Internet via Wi-Fi, make sure you have a stable signal. The best way to do this is to not be too far away from your access point/router. There are many storms and electrical outages in Costa Rica – so be sure to have both your computer and your phone fully charged, just in case you need to use a hot spot or tether to join your English class.
Requirements to participate in Speakhabla's online language course are:
Standard quality video

0.5 Mbps receive

Send 0.5 Mbps

High resolution video

2.5 Mbps receive

3.0 Mbps send

Test your Internet speed here.
How is the lesson structured?
There is a clear structure of each lesson. In the first half hour, you address any questions that came up during the study time. The one hour that is left is used for speaking and is guided by the teacher. The speaking subjects are not spontaneous but consist of things that you have already prepared as homework. This way you take full advantage of your time with the teacher. 
How do I pay for the lessons?
Upon registration, you are asked to pay for the first month of lessons. A new invoice is issued on a monthly basis. Payment for classes is due on the 1st of each month in advance of your classes.
The payment is done via bank deposit or online payment with debit or credit card.
Do the fees change as I progress levels?
The fees remain the same for all levels in all languages.
Your question wasn't in the list?
Ask our AI Chatbot!! (find it in the right bottom corner)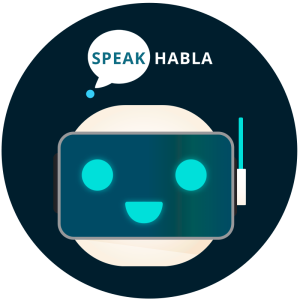 Or contact us and we'll happily help!